It has all happened so quickly… Quite apart from the humanitarian considerations as the eruptions of La Soufrière, the volcano on the island of St. Vincent continue (approximately twenty per cent of the population has been displaced) – there is the devastating impact on the environment.
As noted by Trinidadian journalist Wesley Gibbings in his recent blog post, which I shared here, the Caribbean has been regularly battered, torn apart by natural disasters – hurricanes, floods and droughts resulting from climate change. Several islands in the eastern Caribbean are also volcanic. The eruptions which began just about a week ago have filled landscapes with thick ash, coating trees and plants, stifling rivers, destroying flowers and fruits. There are also pyroclastic flows, a river of burning volcanic junk flowing into the sea. How vulnerable we are.
At BirdsCaribbean, we are thinking of several bird species, whose homes may well have been destroyed. What has survived – so far – bearing in mind that La Soufrière may continue to erupt in coming weeks and months? Above all, we are thinking of the iconic St. Vincent Parrot.
Please read our appeal below (taken from the BirdsCaribbean website) and if you can spare a few dollars to help our partners, including St. Vincent's Forestry Department and others, please do consider helping.
At 8:41 a.m. on Friday, April 9, 2021, an eruption column (cloud of ash) began rising above the La Soufrière volcano, located in the north of the island of St. Vincent. There have been additional and more explosive eruptions since then, including a collapse of the volcano's dome and pyroclastic flows starting on April 12th, decimating villages, agriculture, and housing. St. Vincent and neighboring islands are now covered in ash, in particular Barbados. The ash plume is also expected to affect St. Lucia, Grenada and the Grenadines via surface or sea level winds.
Our hearts go out to our dear friends and colleagues and the people of St. Vincent, as they continue to cope with the devastation caused by the eruptions and dangerous falling rock and ash. Thankfully, many people in the danger zone have been evacuated, but the entire country is impacted by ash fall, power outages, and water shortages.
Humanitarian efforts are well underway, but the wildlife also needs our help! Together with our international partners we are organizing funding support to help with the rescue and recovery of the threatened St. Vincent Parrot.
Please donate generously if you can so that we can provide emergency funding for on-the-ground partners and volunteers to rescue and provide care to injured parrots facing a loss of habitat and food.
Impacts on the St. Vincent Parrot and Other Wildlife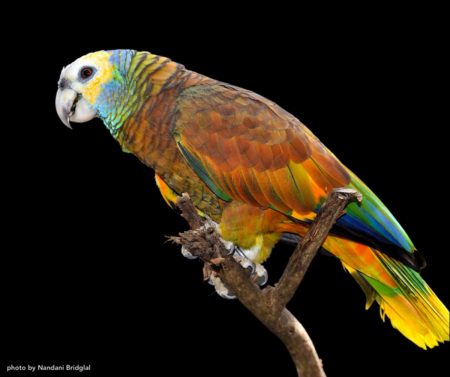 The normally lush green landscape of this beautiful country is now blanketed in gray ash. It's possible that the eruptions and ash fall could go on for weeks, devastating an island already suffering from the health and economic impacts of the pandemic.
We are very concerned about the impacts to many regional and endemic birds on St. Vincent, particularly the threatened St. Vincent Parrot (Amazona guildingii), listed as Vulnerable, and the Whistling Warbler, listed as Endangered. Other restricted-range endemic species (12) include the Grenada Flycatcher, Rufous-throated Solitaire, Purple-throated Carib, Brown Trembler, Lesser Antillean Tanager, Antillean Euphonia, and others.
The St. Vincent Parrot is a gorgeous, vibrant symbol of national pride, which bears the country's national colors. It stands apart from many other Caribbean parrots with the typical green body feathers instead showing iridescent bronze feathers, edged in sunset orange. These striking parrots were once common, but destruction of their forest habitat, illegal trade, hunting, and hurricanes all led to the parrot's decline to only 370-470 birds in the 1980s. Thankfully, the parrot and its habitat are now protected by law and the population is slowly increasing. It is now listed as Vulnerable with a wild population of about 750 birds. Parrots are generally resilient, but they need our help to make it through this devastating natural disaster.
Learn more about the St. Vincent Parrot here.
The Threatened St. Vincent Parrot Needs our Help
Our colleague in St. Vincent, Lystra Culzac, is optimistic that any parrots in the area of the volcano would have moved to safer zones (their main population area is in the west and east slopes of the central mountain range south of the Soufrière Volcano). However, with continuing eruptions many birds have and will continue to perish as ecosystems are devastated from the atmospheric gases and heavy ash fall blanketing the country, as well as pyroclastic flows.
We're very concerned about the impacts on the health and survival of the St. Vincent Parrot, Whistling Warbler, and other birds and wildlife. Breathing volcanic ash and dust is extremely harmful; Radio Grenadines reported  Scaly-naped Pigeons falling dead out of the sky on nearby Union Island the day after the first eruption.
How Your Gift Will be Used
We are working closely with other concerned conservation organizations that want to help, such as the Rare Species Conservatory Foundation, Caribaea Initiative, and Fauna and Flora International, in partnership with the Forestry Department in St. Vincent, who is directing the recovery effort. Plans are being formulated for the rescue and rehabilitation of St. Vincent Parrots that are impacted by the volcano. However, carrying them out will be complicated and take time, due to the pandemic and also the understandable need to deal with the humanitarian crisis first.
Birds that are rescued will be cared for in the Botanical Gardens of St. Vincent, set up as a rehab and breeding facility. Aviary building supplies are needed to expand aviaries and holding enclosures for rescued birds. Survey equipment, parrot feed, and veterinary supplies are needed to provide care, food, and shelter to rescued birds.
Ensuring the long-term health and recovery of the St. Vincent Parrot will require sustained support and effort as the eruptions may continue for weeks or months (according to the University of West Indies Seismic Research Centre). The immediate priorities are field expeditions and expanding accommodations for rescued birds. Down the line, habitats and park infrastructure may  need restoration and repair. In addition, surveys to assess the damage to habitats and the parrots' overall population size will be critical. We will keep our community informed about these plans and our progress in the coming days and weeks.
Keeping the parrots within SVG territory is a conservation priority. Rescued birds will be cared for until is safe for them to return to their mountain forest habitat.
Any donation that you can make at this time will be greatly appreciated!
Thank you!!!